When travelling for your long-awaited holiday, you may pack quite a few items to come along with you. At AtoB we, like no one else, understand that everyone's circumstances and preferences could be slightly different.
Depending on the amount of luggage that you decide to bring, the appropriate vehicle class will also differ. You can check the luggage capacity of each vehicle class in the booking reservation form, next to the bag symbol (see image below).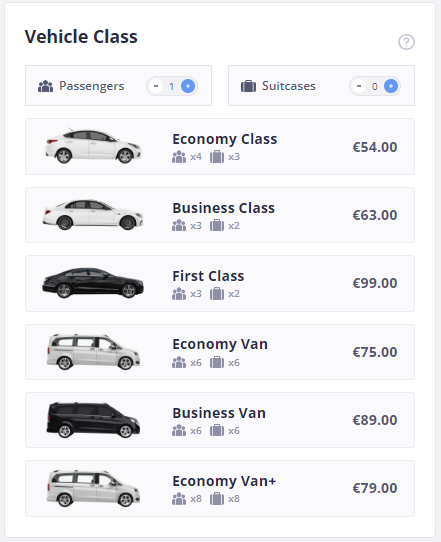 When it comes to the size of your bags, we tend to follow the generally accepted standards:
Small checked bag up to – 24x17x10.5 in / 60.96x43.18x26.67 cm

Medium checked bag up to – 27x18.5x14 in / 68.58x46.99x35.56 cm

Large checked bag up to – 32x22x14 in / 81.28x55.88x35.56 cm
For each vehicle, the suitcase signs show the maximum amount of standard luggage available on board. The size of one standard luggage per piece 55 x 35 x 25 cm (22 x 14 x 10 inches), with max dimensions of 158 cm (62 linear inches).
If you are taking non-standard luggage, please check the Extra Luggage Option in the personalized transfer section.
Important note: In order to avoid miscommunication between your booking and your assigned driver, please pay attention towards the class of the selected vehicle, as passing the capacity limit could result in a refusal of service, or additional charges applied on the spot.